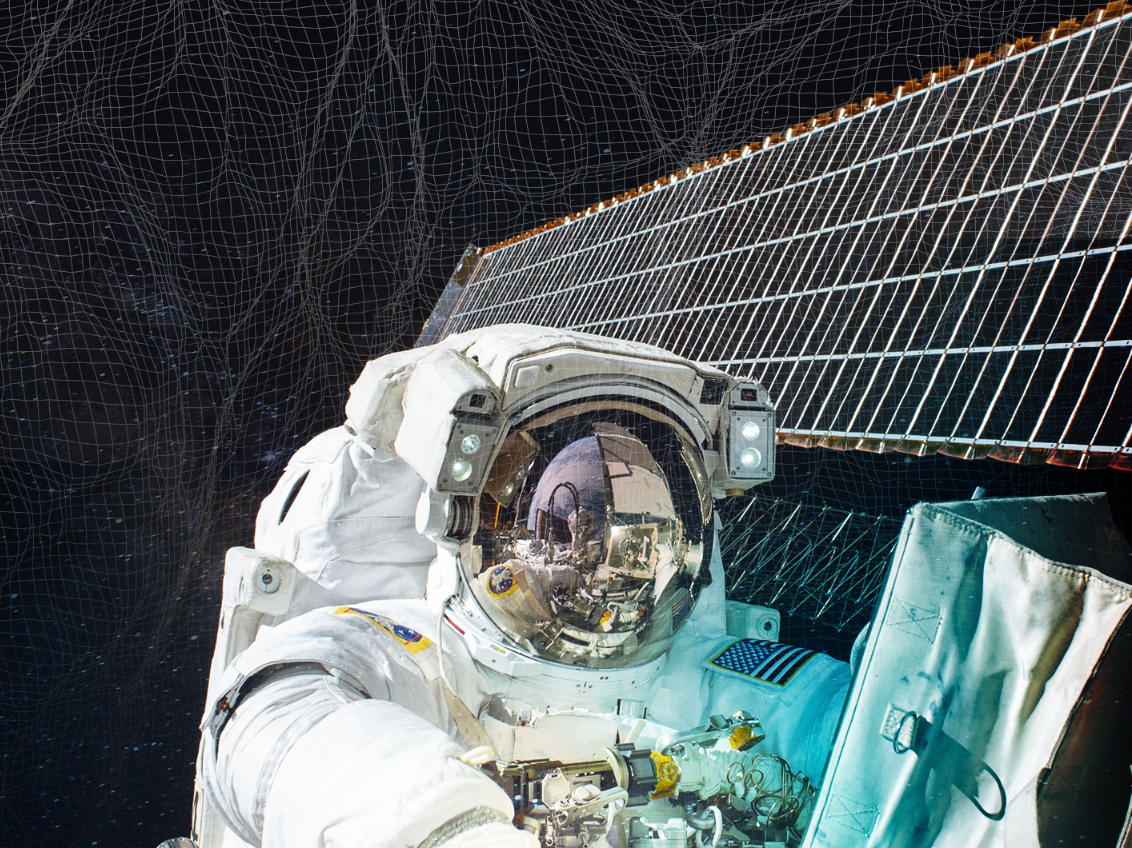 USING SPACE-AGE TECHNOLOGY TO LIVE LIFE TO ITS MAXIMUM
We know from our space program that it is impossible to achieve total health without a sufficient amount of skeletal impact. It's that simple. NASA funded the early research that resulted in the Juvent Platform technology.
Your bones have many functions that rely on regular healthy impact, it's one of the fundamental requirements for optimal health. Juvent makes it possible to get daily skeletal impact that is safe, effective and easy.
Good health is so important and the Juvent Platform can help to maintain yours. It's evidence- based — rooted in extensive research — and it's groundbreaking. Easy and effective, the Juvent Micro-Impact Platform is an effective solution that promotes musculoskeletal health while helping to relieve joint pain and improving balance.
Simply standing on the Juvent Platform for 10 to 20 minutes a day. You'll feel a subtle, pleasant stimulation. Starting at your feet and legs, it extends upward through your torso, arms, and upper body. Using our platform just three days a week has been shown to help improve blood flow, ease joint, knee and back pain, and increase stability.
Juvent vs. Whole Body "Shaker Plates"
Juvent helps ER Doc get back to work.
Dr. Rademaker, MD Podcast interviews Peter Simonson, Juvent President
Mike Bauerschmidt, M.D.. "It is virtually the perfect machine"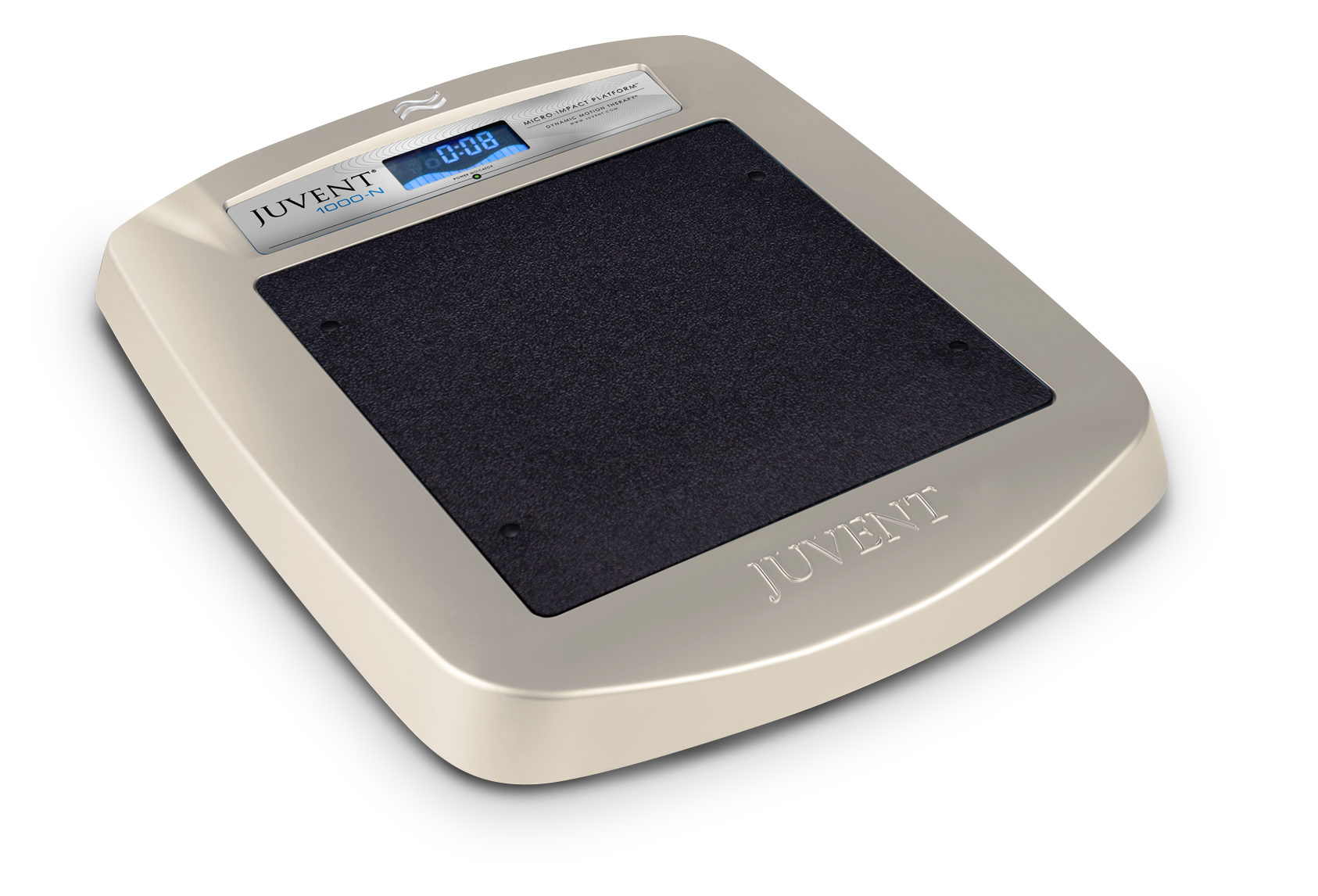 Juvent Micro-Impact Platform
Regular price
$5,995.00 USD
Regular price
Sale price
$5,995.00 USD
Unit price
per
Sale
Sold out
Share
View full details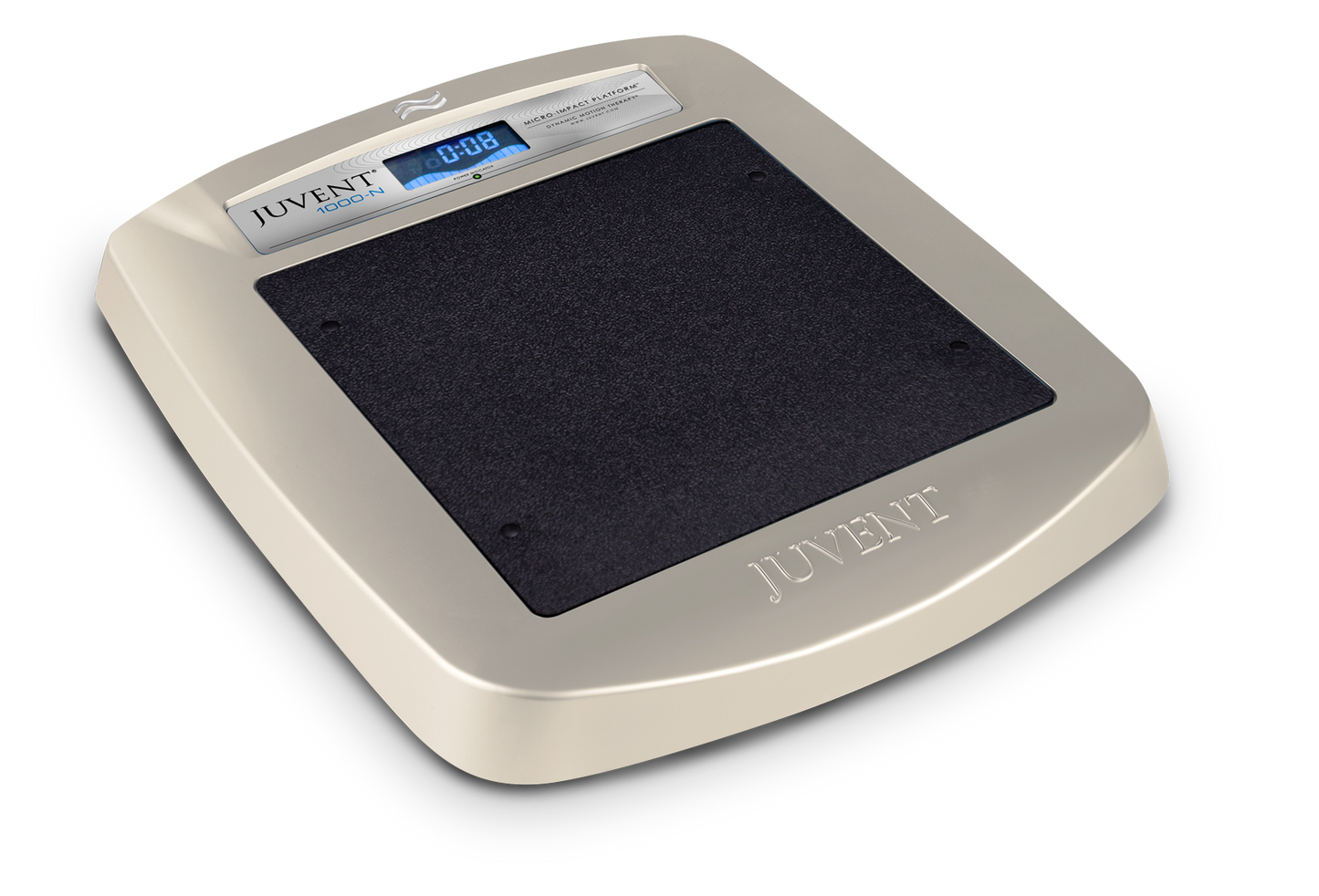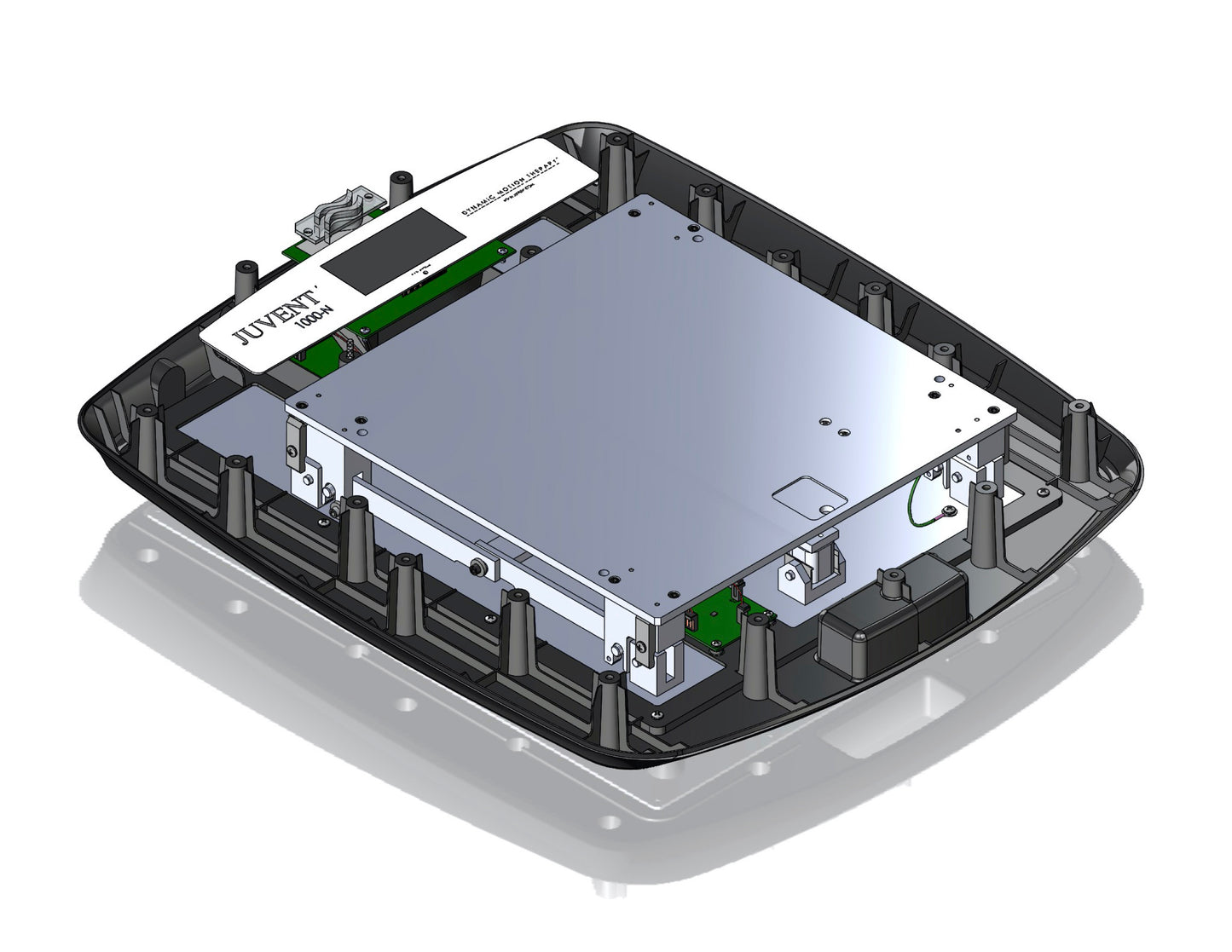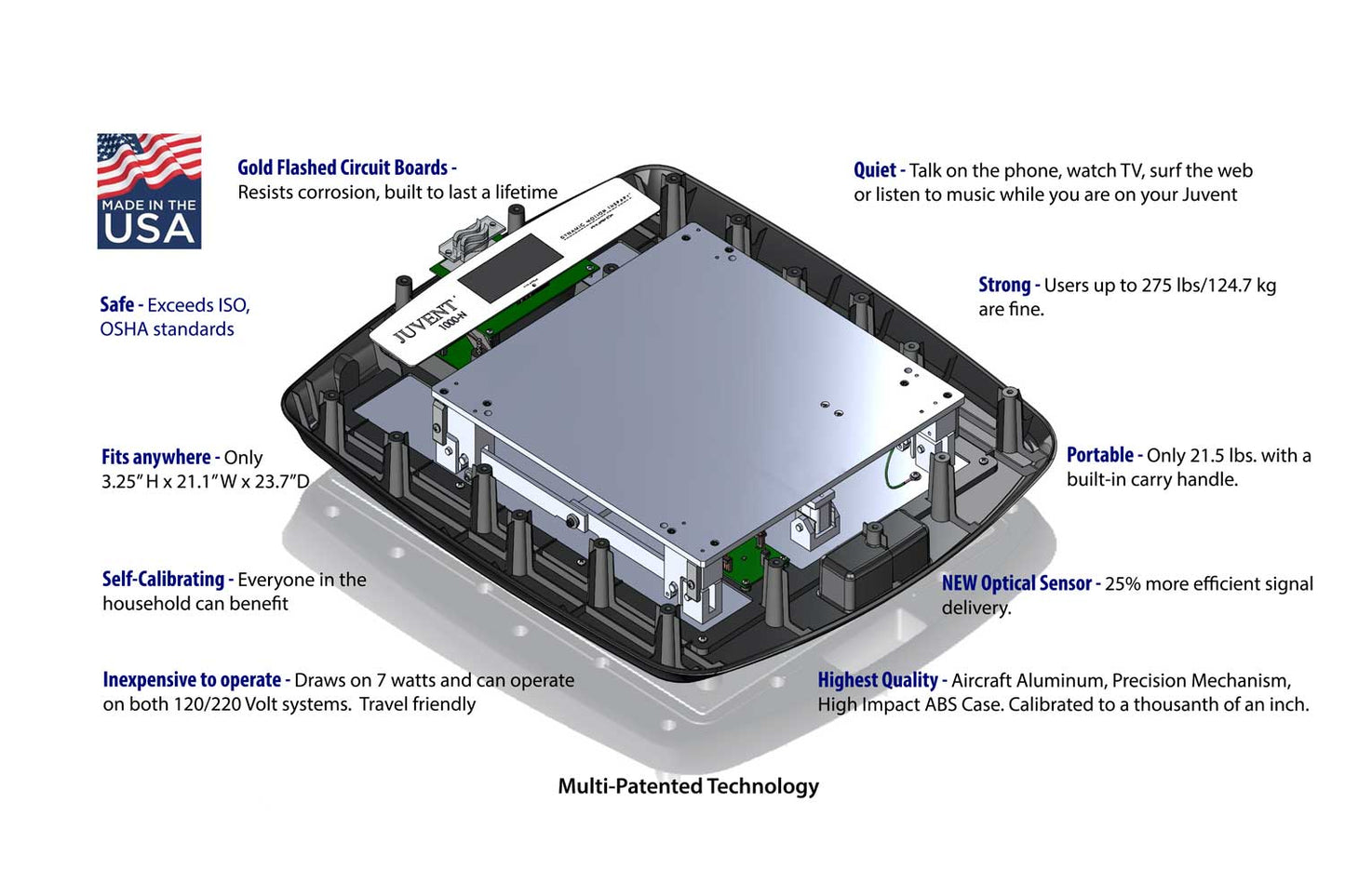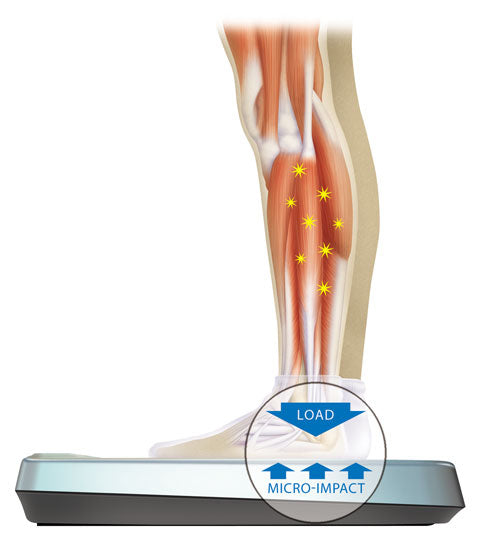 Additional Information
Unboxing Video
Technical Specifications

The Juvent Health Micro-Impact Platform® is a precision FDA Class 1 medical exercise and rehabilitation device.
Weighs 21.5 lbs, with a standard operating capacity of 250 lbs.
Natural non-invasive treatment
Quiet. Talk on the phone, watch TV, surf the web or listen to music while on Juvent.
Everyone in the household can use the Juvent since it is self-calibrating.
Compact for easy storage, portable and durable (Height 3.25 in / Width 21.1 in / Depth 23.7 in)
Strong. Maximum capacity of 275 lbs /124.7 kg
Energy-efficient – requires only 7 watts
120/220 Volt
Custom Colors available

In the US it is considered investigational for the treatment of osteoporosis or improvement/maintenance of bone mineral density. JUVENT products are covered by the following issued patents, pending patents and their foreign equivalents: 6,843,776 6,884,2277,094211 7,207,954 7,207,955 7,985,191 8,114,036 11/369,611 11/486,538.
Watch a Juvent being built
Read the Owner's Manual
New Products
Regular price

$199.00 USD

Regular price

Sale price

$199.00 USD

Unit price

per

Regular price

From $273.29 USD

Regular price

Sale price

From $273.29 USD

Unit price

per